Wednesday, August 9, 2023 - Sunday, December 31, 2023
Cat Tales Wildlife Academy
Experience the Thrill of Learning About and Caring for Earth's Most Magnificent Predators
---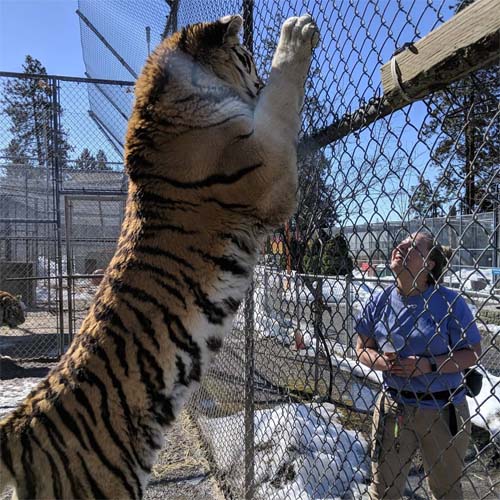 ---
Upcoming Program Start Dates – September 13, 2023 — November 1, 2023
🦁 Ignite Your Passion: Join the Zookeeper Training Program! 🌿
Have you ever dreamed of a career where every day is an adventure, working side by side with magnificent creatures from around the world? The Zookeeper Training Program offers you the chance to turn that dream into reality. Become a guardian of wildlife, a champion of conservation, and a vital part of creating a better future for our planet.
🌱 How You Can Get Involved:
Enroll in the Program: Embark on a journey of learning and discovery. Our comprehensive training program equips you with the knowledge and skills needed to care for animals, manage their habitats, and educate the public.
Hands-On Experience: Gain practical experience by working closely with a diverse range of animals. From feeding and medical care to enrichment and behavior monitoring, you'll be at the forefront of animal well-being.
Learn Conservation Practices: Understand the critical role modern zoos play in wildlife conservation. Discover how your efforts can contribute to global initiatives to protect and rehabilitate endangered species.
Connect with Experts: Learn from experienced zookeepers, veterinarians, and conservationists who are dedicated to sharing their expertise. Your training will be guided by professionals who are passionate about making a difference.
Promote Education: As a zookeeper, you'll play a pivotal role in educating visitors about the importance of biodiversity, ecosystems, and the challenges faced by animals in the wild.
Advocate for Animal Welfare: Be an advocate for ethical and humane treatment of animals. Through your training, you'll learn how to ensure the physical and psychological well-being of the animals in your care.
Join a Network: Connect with a community of like-minded individuals who share your passion for animals and conservation. This network will provide support, resources, and opportunities for collaboration.
Impact for Generations: By becoming a part of the Zookeeper Training Program, you're not just embarking on a career; you're making a lasting impact on the lives of animals and future generations.
🌎 Why Zookeeper Training Matters:
Modern zoos are hubs of education, conservation, and research. As a zookeeper, you'll have a unique platform to raise awareness about the urgent need to protect wildlife and their habitats. Your dedication and expertise will contribute to a world where both animals and humans thrive together.
📢 Are you ready to make your mark on the world of wildlife? Join the Zookeeper Training Program and become a guardian of biodiversity, a voice for conservation, and a source of inspiration for generations to come. 🦜🌏🐾